Jurassic World: Dominion Dominates Fandom Wikis - The Loop
Play Sound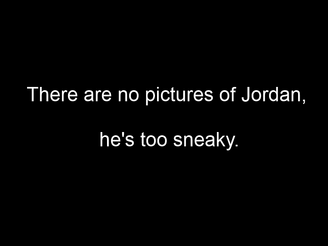 Jordan Black is the youngest of three siblings of a wealthy family of nobles. Secretly, his family travels the East Blue and commit thefts for sport. Since leaving his family home, he's decided to go straight(ish).
Appearance
[
]
Jordan is a slender, 20 years old man with slightly tanned skin and thick dark hair. He wears dark clothes and walks quietly.
Personality
[
]
Since childhood, Jordan was trained to control his personality. When he was working as a thief, he would be cold, calculating and quiet. When he was social, he would seem to be  friendly, easy going and empathetic in order to gain the trust of potential victims. Unlike the rest of his family however, Jordan wasn't able to keep the social persona skin-deep, so in "social mode" he really did empathise with his victims.
Eventually, he decided to turn his life around. He returned as much stolen property as he could from his family and set sail to find his destiny. He's still a self declared rogue, but he only targets those he think deserves to be targeted. Now he tries to be upbeat and humorous, if a bit sarcastic sometimes.
Fighting Style
[
]
Jordan relies on the use of daggers, stealth and underhanded tatics. After two years without the practice of targeting innocents, his skills seem to have dulled considerably.
| Bladed | Bludgeoning | Ranged | Thrown | Unarmed | Pole | Custom |
| --- | --- | --- | --- | --- | --- | --- |
| 10 | 1 | 1 | 1 | 1 | 1 | 1 |
Items and Equipment
[
]
Location
Armor
Toughness
Special
Head

Dark gray

bandana

1
Shoulders

Flint arrowhead

pendent

0
Chest

Enchanted wood cuirass

under a black hoodie

2.5

+10DR

12.5HP

Gloves

Leather gloves

10

+10DR

12.5HP

Pants

Enchanted wood greaves

under gray cotton trousers

2.5

+10DR

12.5HP

Boots
Enchanted wood boots
2.5

+10DR

12.5HP

Total
18.5

+40 DR

50HP